Xingshufu Banquet
Sichuan Cuisine
Xingshufu is a banquet restaurant under the supervision of Lu Chaohua, a National Master of Sichuan Cuisine, and his students. Based on the 24 traditional flavors of Sichuan cuisine and the best ingredients from all over the world, they present each dish with its own character and taste experience. Customers can enjoy the signature dishes such as "boiling leopard coral grouper with Hanyuan tribute pepper, signature spicy crab, and twice cooked pork with 8-year-fermanted bean paste". Private rooms for business banquets are also available, where you can enjoy a gourmet feast.
11:00-14:00/16:00-22:00
021-6886-8856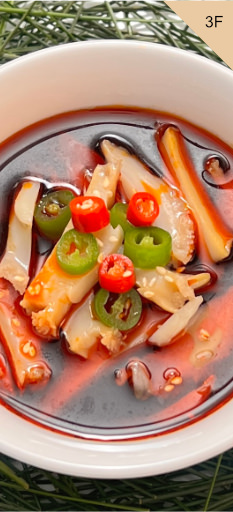 Chinese Cuisine&Sake
Guangdong Cuisine
Chinese Cuisine&Sake specializes in modern Chinese cuisine based on Cantonese flavor. With the elegancy of SAKE, the dishes are given a richer taste and reflect the charm of infusion. The private dining space, created by a famous Shanghai designer, with unique colors and lights, will bring you a different kind of joy.
11:00-23:00
021-5888-8926